How Intelligence Influences Dating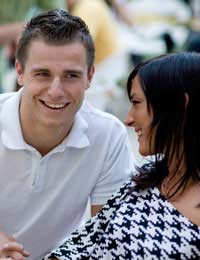 Dating may seem as simple as being attracted to someone and then seeing where it goes, but a lot of factors – some complex – can come into play. One such factor is intelligence, which some researchers think plays an important part in choosing a mate. This holds true whether it's a short-term fling of sorts or a long-term relationship.
Is it a Conscious Choice?
If you ask someone what qualities are important in a partner, they may very well say that intelligence ranks highly on their list. These kinds of conscious choices exist for most of us but we may be responding from much more subtle cues.
Whether someone is degree educated or highly articulate is one thing if you associate these traits with intelligence. But, researchers think that there are many other cues and that we may not be aware of how we respond to a potential partner when it comes to intelligence.
Looking for Love or Fun
One study found that whether a woman was looking for a one-night stand or a long-term relationship didn't matter when it comes to a man's intelligence. The study found that both kinds of women wanted a 'genius' as opposed to a 'jock' for a fling or a partner.
They saw these men as being far more capable of providing for their needs, both in the short-term and in the long-term. For the latter, women thought that such a man would be more likely to sustain the family while also passing on any genes for intelligence to his children.
Interestingly enough, women in most of these studies were found to be quite accurate at judging intelligence. Previous studies had shown that intelligence wasn't important to women who wanted a quick fling or one-night stand. But in this recent study, the intelligence of a man turned out to be a relatively reliable way to determine his appeal in both serious partnerships and short-term ones.
Emotional Intelligence and Dating
Other studies around intelligence and dating have focused on emotional intelligence. They have found that couples who both have a low score on the emotional intelligence scale are more likely to also score poorly on important measures of their relationship. This includes support and the quality of the relationship.
How Men and Women are Different
When it comes to dating, research suggests that men and women really are different. In a recent study, it was found that women tended to put more emphasis on intelligence whereas men were more responsive to physical appearance and attractiveness. While women valued a man's intelligence when it was greater than their own intelligence, men did not share that approach. If a woman's intelligence was greater, the man was less likely to be interested in the woman.
Finding the Right Match
There are many factors that affect why and how we choose a potential partner and we still don't know exactly how much bearing each has on our choices. Clearly, intelligence is one of them and it may be playing a bigger but less obvious role than we think.
You might also like...
Hello, great article, thank you! I'm actually writing my master thesis on intelligence and dating. I would really appreciate if you could tell me where to find the studies which you described. Cheers.
Roman
- 22-Oct-18 @ 5:04 PM
I believe intelligence and dating go hand in hand. Most of my friends value intelligence in their partners very highly and is something they look for in a life long partner. There are even websites out there such as IQ Catch where people looking to find intelligent people can come and find someone with smarts.
Jane
- 31-Jul-14 @ 2:04 PM