How Walking Helps Intelligence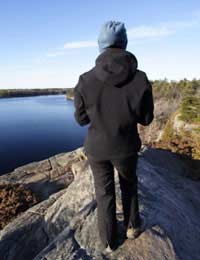 It isn't news that exercise has many health benefits for your body and your mind. But a new study suggests that just 40 minutes of walking at a moderate speed for three times a week can enhance intelligence.
Your Brain is Like a Circuit
Very little is done in one area of the brain. Instead, the brain acts like a circuit. As we age, the connections in the brain decrease and the circuit does not work as well as it once did. Researchers wanted to see what happens when fitness is added into the mix, and how this affects the circuits that decline with age.
Better Brain Circuit Connections
Researchers believe that walking enhances the connections between brain circuits. This means that the age-related cognitive decline that occurs can be buffered to some extent. It may also mean improved performance on brain tasks that require reasoning.
Testing Intelligence Theories
To investigate their theory, researchers recruited participants aged 18 to 35 and 59 to 80 years old who led sedentary lifestyles prior to the study. Participants had participated in physical activity for a minimum of thirty minutes two times over the previous six months. The study used functional magnetic resonance imaging to look at whether aerobic activity increased connectivity in brain networks.
Participants took part in either a walking programme for 40 minutes at a frequency of three times a week or just stretching and toning exercises. Researchers measured the participants' brain connectivity and their performance on cognitive tests at the start of the study, then again six months later. They also did a final measurement one year after the start of the study.
Higher Cognitive Performance
After one year, the participants who participated in the walking programme showed increased network connectivity in the brain. The parts of the brain that help in performing complicated tasks and cognition were significantly better.
Better Performance from Walking than Stretching ExercisesOn the other hand, those participants who did the toning and stretching exercises did not show these same benefits to the brain connections and cognitive tasks. The walkers consistently outperformed the other group.
Executive Cognitive Tasks
The greater the participants' brain connectivity, the higher the participants' performance on cognitive tasks. These kinds of tasks are known as executive control tasks. They relate to making plans, schedules and using memory and multi-tasking capabilities.
Reducing Age-Related Cognitive Decline
It appears that people who are fitter are more likely to have improved connectivity in specific parts of the brain, particularly the areas responsible for planning tasks, prioritising and multi-tasking. The brain is active in a number of areas and even though the networks decrease as a person ages, exercise can slow this progression.
Light Walking for Significant Health Benefits
This new study changes some of our traditional thinking that implies heavy exercise is needed for real benefits. Just 40 minutes of light walking three times a week is enough to provide some important cognitive benefits. Now, it is even harder to make excuses not to participate in walking activity on a moderately regular basis.
You might also like...
It's very informative and I hope you have more topics to share regarding human Intelligence.
rod
- 10-May-11 @ 1:05 AM