Primitive Intelligence and Evolution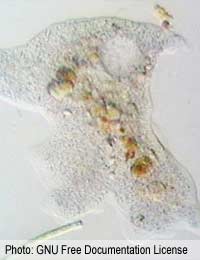 You might never have imagined that an amoeba (a term used to describe a group of organisms that move by crawling) could give us clues about early intelligence, but new research has suggested that there is indeed a lot to learn from amoebas!
Not only are amoebas far more intelligent than their simple appearance would indicate, but a recent study hints at clues to our own primitive intelligence.
Researchers have created a relatively simplistic electronic circuit that can mimic similar behaviour in an amoeba, which can then teach us more about the origins of intelligence.
Learning From an Amoeba
In the last decade, scientists have found some interesting behaviours in amoebas, which were surprisingly intelligent ones. In one study, researchers found that the amoeba was more likely to take a left turn when its last turn was right. This would suggest that even something as simple as an amoeba has a primitive form of intelligence via memory.
Now, a Japanese researcher and his team have found even more evidence of the amoeba memory and how it works. Through amoeba exposure to different temperatures of cold and warm, they actually observed that the amoeba got ready for the anticipated colder conditions by slowing down somewhat. In fact, even when they stopped fluctuating the temperature, the amoeba was temporarily hesitant and slower.
Figuring it Out
Some biologists think that an amoeba has a special sensory bit in its cells to allow it to pick up these changes and respond accordingly. Yet, other researchers say there's a lot more to it than that! The amoebas 'learn' that the cold isn't happening anymore, so they will stop anticipating the changes eventually.
Latest Research
With the latest research, scientists think that an amoeba has a special, intrinsic memory mechanism. Similar to our human brains, researchers believe that this mechanism can store memories for quite a while but if the memory isn't used, it will start to fade.
In fact, they believe they've actually identified this special storage mechanism. Inside an amoeba is a solid mass that is found within a liquid, all of which is contained in a thick gel. This solid/liquid bit streams through the gel and results in a maze of channels.
When an amoeba responds to an unchanging environment, the channels get stronger. But, if the amoeba's environment starts to change, the channels are broken down slowly and the 'maze' changes and adapts, resulting in a new maze. Still, the amoeba keeps a memory of the previous conditions for a short period of time.
Electrical Circuits
The newest development of memristors, which are electrically-based resistors that can keep a memory of a current that occurred earlier, have inspired the research team's creation of a simplistic circuit model that is meant to 'copy' the amoeba's mechanism for memory and response. The team is using the circuit and playing around with the voltage to see how the circuit learns and predicts a change in the future current applied. While the technology seems somewhat complicated, it is providing many clues about primitive evolution and intelligence.
Obviously, an amoeba remains a significantly simpler organism than humans. However, we can still see that there are some important basic mechanisms for intelligence that can teach us a lot about the evolution of intelligence.
You might also like...
i believe that the senses play a vital role in developing the "intelligence"of a being intelligence was developed according to the way which one process,respond,store the input obtained through the ports(senses)
joel
- 16-Jun-16 @ 5:45 AM