Pets and Intelligence: Which Breed is Best?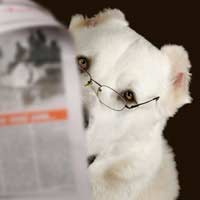 While human intelligence is a fascinating subject for discussion, many of us also wonder just which dog breeds are most intelligent. We all have our own personal reasons for choosing a dog and for some people, intelligence is one of those reasons that help to guide our decision-making process. Yet, the question remains – which breed is best?
Understanding Dog Intelligence
Dog intelligence can quite generally be defined as a dog's ability for learning, thinking and working through – or solving – different challenges and problems. However, assessing this intelligence is an area of much disagreement! Whether it's a dog owner, a trainer or even someone who performs research in the field, it seems difficult to reach a consensus on which breed is most intelligent as well as how to assess this intelligence.
Many owners see a dog's response to basic commands and their ability to learn these commands as being an indication of how intelligent the breed is overall. This is actually only one kind of intelligence though and there are many others types of dog intelligence. Dogs such as Poodles or Labrador Retrievers tend to show good intelligence for commands.
Other types of intelligence are more social in nature and can be found in dogs that interact well with other dogs in a pack. They may be particularly attentive to their young and may show strong intelligence in training their own offspring. A good pack dog would be sled dogs; these animals function well in a team.
Another kind of intelligence relates to how easily an animal adapts to a new space, including how well it is 'housebroken.' These animals relate well to humans and adjust easily to a new environment. As an owner, you should still be patient when training your dog because intelligence is only one part of the equation – good, dependable training is another.
Defining Intelligence
Although there are many ways to define and generalise intelligence in dogs, three key kinds include adaptive intelligence, instinctive intelligence and the kind of intelligence that relates to practical, functioning aspects of the dog.
With adaptive intelligence, your dog would have the ability to learn quickly and solve any challenges that were presented. This is almost like a doggie IQ!
With instinctive intelligence, an animal will respond quite naturally to various requests and similar to adaptive intelligence, it is somewhat of an IQ measure for dogs. It tends to be quite specific to each dog within a breed.
When we think about a more functional kind of intelligence in dogs, this is the area where the breed becomes particularly important and has more weighting and consideration. As mentioned, there is a lot of disagreement on this area of classification! The top breeds tend to include Poodles as well as German Shepherds. Other dogs that usually make most top ten lists for intelligent breeds include the Labrador Retriever, Rottweiler, Golden Retriever and Doberman Pinscher.
Choosing a Dog
Dogs clearly have different kinds and levels of intelligence, as shown by the tendency for some owners to choose a breed based on its intelligence and related abilities. An owner might choose a specific dog for hunting or because it tends to relate well to children, thus making it an excellent and adaptable family pet.
Whatever you choose, there is much responsibility on you as an owner to raise the dog appropriately and train it in the correct way. Dogs need lots of love but they also need proper guidance if you want to fully enjoy all of your pet's intelligence and abilities.
You might also like...