How Intelligence Can Increase Risks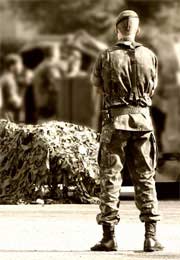 When most of us think about the concept of intelligence, we think of it as opening doors for us and making our lives successful ones. Whether intelligence offers us opportunities or improves our engagement with other people, it's generally seen as an important and positive characteristic – one that can only provide benefits.
Yet, a recent study found that intelligence can be associated with very negative outcomes. In fact, it seems that being 'daft' can be beneficial. In Scotland, soldiers who are survivors of the second world war have been found to have lower intelligence than those soldiers who were killed.
Examining Old Records
The study looked at old records in Britain to make the comparisons on intelligence and death. Of the nearly 500 Scottish men who died and had participated in IQ tests when they were eleven years old, there was an average IQ of just over one hundred. Of thousands of survivors who also took that same test, the average score was just over ninety-seven.
Why the Difference?
Researchers think that it might be those men who were more intelligent that were placed in the frontlines of the war. As the intense demands of war demanded quick-witted thought and carefully executed strategies, those men deemed as intelligent may have been given increased responsibilities, which led to their deaths due to riskier situations and exposure to the enemy.
The study itself found that the IQ tests looked at several different kinds of abilities, including maths and the ability to reason. Another skill that was assessed was one pertaining to a person's spatial abilities.
Looking at Other Studies
Studies prior to this one had suggested that there was a drop in intelligence for Scottish men in the post-war period. It had originally been thought that the men who weren't as intelligent had a higher chance of being turned away from military participation.
However, this new study sheds more light on the subject and seems to contradict the old one. It also found that the men who didn't serve in the war were more intelligent than even those who survived it and they were equally intelligent to those men who died in the war.
Being a Good Soldier
The researchers thought that another reason the more intelligent men died is because they may have been driven by a stronger desire to do their job to the best of their ability. This could mean that they put themselves in riskier situations, particularly on the frontlines. Also, their improved verbal abilities might have meant that they had significantly more roles as leaders, which again could have put them in higher risk situations during the war.
Importance of Intelligence
Obviously, this study isn't suggesting that intelligence doesn't have merits and shouldn't be something important that we all strive to improve, but it does show that intelligence can bring with it a number of risks.
For those soldiers who fought in the war, the risk was a very real one that may have contributed to an early death. While we do need to understand just how intelligence affects us in terms of consequences in life, we should also remain committed to finding ways to improve how we think and act as we look to reduce the risks associated with intelligence.
You might also like...