Better Emotional Intelligence in Your 60s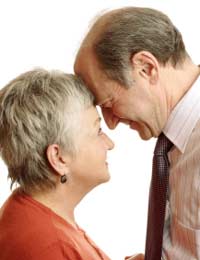 We often think of intelligence being sharp in younger people but fading as we age. In some instances this is true if we look at the fact that intelligence can be broken down into various areas. When it comes to emotional intelligence, however, one study suggests that people in their 60s may have better emotional intelligence.
Improving Emotional Intelligence
Although researchers believe that older adults may have more of a challenging time when keeping their emotions in check, they are better than younger people at seeing the positive, good side of a bad situation. For instance, a person in their 60s may become more reactive and emotional when watching a sad movie but instead of withdrawing, they engage with their emotions. Where they experience a stressful situation, they can convey empathy to others more effectively and see the positive side of things.
Your Emotions Throughout Life
Researchers have long wondered how our emotional intelligence changes throughout life. The way we approach situations and deal with them is often uniquely personal; but could changes relating to age also play a key role in the strategies we use to navigate difficult circumstances?
Sharper Skills in Older Adults
The results of the recent study show that as you age, certain skills can become sharper. This appears to be the case for emotional intelligence. It can thus provide an advantage for older adults, particularly those who are still working. Also, it can support healthier personal relationships.
Researchers began by investigating nearly a hundred and fifty healthy adults. They compared adults in their 20s, 40s and 60s. They showed the participants films that had sad or 'disgusting' scenes and then they monitored the responses. They also looked at physical responses by measuring blood pressure, heart rate and even perspiration.
Results showed that it was the older adults who were able to take a better view of the negative scenes by re-interpreting what they had seen in a positive, helpful way. It is thought that the reason they had an advantage could be related to their stronger life experience and learning process for handling difficult situations.
In comparison to the older adults, the younger and middle-aged study participants did not fare quite so well. They tended to simply withdraw from the film and moved their attention away from it. This could relate to executive functioning. This type of functioning is associated with memory and impulse control. As you get older, it tends to decrease. Overall, researchers concluded from the study that adults in their 60s seem to have the emotional intelligence based on tools that keep them connected to others socially and let them handle tough situations more effectively. This keeps them from withdrawing and isolating themselves when things get difficult.
Stronger Emotional Intelligence
While the study is an encouraging one in that it challenges our beliefs that older adults suffer deterioration in all types of intelligence, it also highlights an important focus in other, younger age groups. Younger adults can still learn from the study by putting more effort into improving their emotional intelligence and learning the skills needed to relate better to situations while also empathising with people.
You might also like...
I think that when it comes to intelligence nobody can beat me.
Chuck Norris
- 28-Jan-13 @ 5:17 PM