How Family & Culture Affect Intelligence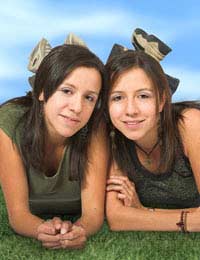 Your intelligence is influenced by a multitude of factors and it too exerts a major influence on your life. It can open doors to new opportunities or close them. In fact, it is thought that family and culture can affect whether or not your intelligence leads to education.
It means that even if a person has low intelligence, their family background can exert enough influence that they can better access educational opportunities. Also, studies show that a loving family environment has a major influence on a child's IQ.
Investigating Twins
Researchers looked at identical and fraternal twins in different countries because the educational systems were both different. Twins are important for these kinds of studies because of the shared genetic makeup. Identical twins share all of their genes while fraternal twins share approximately half of the genes that make us different. Where twins grow up in different environments, we can usually study them to see how much of a population variation is from their genetic difference and how much is from an environmental variation.
To see how family and culture affected intelligence in terms of getting an education, researchers used a twin family study in the United States and also one from Sweden. They took out data that provided intelligence scores and also investigated educational records. After looking at data from thousands of twins, they made some interesting conclusions.
In the United States, they found that the family environment played a more critical role in whether or not a person with low intelligence got more education. Yet, in Sweden, the family environment was more influential on the people with higher intelligence.
If you think of the United States, here a person can obtain a university education if they have enough money to get into the educational establishment. If the family places high value on education and has money, they can pay to get their less intelligent child into university. It may not be a 'top university' but they can get them into a college.
In Sweden, however, you must have the marks. Money isn't a factor in the same way because the education is subsidised. Those who have higher intelligence are more likely able to go to university.
Other Studies on Family and Intelligence
Earlier studies have also shown the influence of family on intelligence. Children who are deprived of a loving family home can suffer from lower intelligence. In fact, even their physical stature can suffer if they are deprived from this healthy, positive family environment.
A significant lack of family attention and care can mean psychological problems for children, along with a lower IQ and stunted growth. One five-year study showed that the children deprived of this loving environment ended up falling within the shortest ten percent of children for their age. Yet if they were moved to a loving family environment, they rapidly caught up and within a year or two nearly matched those in their peer group for physical stature and psychological well-being.
Deprivation During Childhood and IQ
The more deprived the family environment, the more the child's IQ suffered. Where a child was later placed in a loving environment, however, those with a particularly low IQ caught up even faster. When a child has a lower IQ, they tend to show weak responses to stimuli and are also struggle more socially. The brain activity is not as powerful in nearly all parts of the brain.
A Healthy Environment for Children
Intelligence is influenced by numerous factors, with family and culture being two key ones. While genes do play a role, of course, the evidence supports family as being critical to IQ and also physical development in children. Children who are deprived of a loving family environment suffer significant consequences to their IQ and overall physical well-being.
Where a child lives in the world and the subsequent culture they are exposed to also play a role in their intelligence and learning through education. The important takeaway from all of these studies is that IQ is vulnerable to family and culture. Following on that premise, however, IQ is also evolving and has elasticity in the sense it can improve once the right conditions are there to support its growth.
You might also like...