Does Diet Play a Role in Intelligence?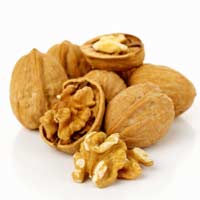 Numerous studies have shown that diet does play an important role in intelligence, brain function and development, starting from a baby's nutrition, via the mother, in the womb, throughout childhood and adolescence and even into adulthood, after active growing as ceased. Eating the right diet can not only increase your intelligence but can also prevent attention/hyperactivity disorders, mental imbalance and degenerative mental diseases.
Brain Nutrition and Function
Research shows that your overall intelligence is mostly developed during your childhood years. Therefore ensuring that children receive the correct nutrition can make a big difference to their future academic performance and success in life. The brain is composed of 60% fat – this is the main component of the cell membranes of the brain neurons and also of the protective myelin sheath that covers them. The type and proportion of fats or fatty acides within the membranes play a crucial role – for example, they determine how effectively the brain neurons can communicate. Scientists have now shown that many mental disorders, such as Alzheimer's Disease, Parkinson's Disease, dementia, depression and schizophrenia are linked with deficiencies in certain essential fatty acids, such as docosahexaenoic acid (DHA). Thus, if a child's diet is deficient in the right fats, his brain will not grow and develop optimally while if an adult's diet is deficient, his brain will not function optimally.
The Essentials
While a nutritionally-balanced, natural diet of fresh foods, particularly wholegrains, fruits and vegetables, legumes, organic meats and free-range eggs is key to good brain and general health, one of the most important nutrients for brain function is essential fatty acids, in particular two which cannot be manufactured by the body and therefore must be derived from the diet:
Alpha-linoeic Acid (ALA) – one of the omega-3 family of fatty acids, ALA is a very fragile nutrient that is only found in flax seed and flax seed oil, walnut, wheat germ, cold-pressed canola oil and dark-green, leafy vegetables. Deficiencies in ALA can lead to loss of brain function, not to mention arthritis, skin conditions, cardiovascular diseases, diabetic neuropathy, problems with immune function and cancer. Studies have shown that increasing ALA in the diet results in higher energy levels, lower cardiovascular risk, improved stamina, performance and recovery, lowered inflammation and cancer risk, better insulin sensitivity and for the brain: improved learning, mood, IQ and calmness, and better ability to handle stress.
Linoeic Acid (LA) – a member of the omega-6 fatty acids family, this is found in corn, sunflower seeds (& oil), pumpkin seeds, safflower seeds, sesame seeds and almost all kinds of nuts. Western diets often tend to be too high in LA compared to ALA and this imbalance can lead to a variety of mental disorders, including hyperactivity, depression, brain allergies, and schizophrenia.

Other fatty acids can be manufactured by your body from the first two essential ones, providing that you receive enough of the raw material and that you also get enough vitamins C, B6, B3, zinc and magnesium, which all are needed in the conversion. Alternatively, they can be found in cold-water, oily fish like salmon, sardines, herring, trout and mackerel. These include eicosapentaenoic acid, arachidonic acid, gamma-linolenic acid and, the most important, docosahexaenoic acid.

Docosahexaenoic acid (DHA) – this is the most abundant fat in the brain and therefore, probably one of the most important for brain health and function. Research on animals fed a diet deficient in DHA found that they displayed seriously-impaired learning skills. DHA plays a key role in the formation of synapses, which are the nerve impulses which travel between brain cells, carrying vital information. It is also an important factor in the formation of myelin, the protective sheath around the neurons, as well as being required in energy production to generate the nerve impulses. One of the best sources for DHA is breast milk, providing that the mother's diet is rich in omega-3 fatty acids. Studies confirm that breast-fed babies have an IQ advantage over babies fed on formula lacking DHA. For weaned children and adults, cold-water, oily fish like salmon, sardines and trout are a good source of DHA. It is also possible to get omega-3 fortified eggs which provide the necessary raw essential acids for the body to make DHA. Other sources of DHA are like green leafy vegetables, soybeans, walnuts, flaxseed and canola oil.

Other important nutrients:

Dimetheyaminoethanol (DMAE) – found in small amounts in the brain and playing an important role in the levels of the neurotransmitter, acetylcholine, this nutrient has been shown to enhance learning, attention span, clarity of thinking and mental alertness, leading to an elevation in intelligence. People have also reported an improvement in mood, memory and energy levels. DMAE is found naturally in oily fish such as sardines but can also be found as a dietary supplement in pharmacies.

Foods that Feed the Brain

Here is a list of foods which boosts brain performance:

Avocados
Bananas
Beef, lean
Brewer's yeast
Broccoli
Brown rice
Brussel sprouts
Cantaloupe
Cheese
Chicken
Collard greens
Eggs
Flaxseed oil
Legumes
Milk
Oatmeal
Oranges
Peanut butter
Peas
Potatoes
Romaine lettuce
Salmon
Soybeans
Spinach
Tuna
Turkey
Wheat germ
Yogurt

You might also like...