Psychometric Testing and What it Measures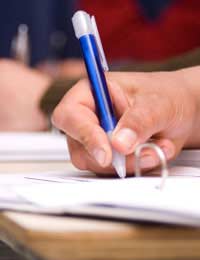 Although classified as a form of 'IQ test', psychometric tests are designed not so much to measure intelligence as to measure ability. It is commonly used by employers in recruitment, as a way of assessing a person's mental ability or interests, in a measured and structured way. It can also be used by students and professionals to help with determining where their talents lie and with career decision-making.
The word 'psychometric' derives from the Greek 'psyche' (mind) and 'metron' (measure). Essentially, it is a measure of how your brain works and provides a quantifiable measurement of your mental ability. Although this generally refers to cognitive ability – such as numerical or verbal reasoning - it can also include personality tests, which give an indication of your interests and attitude to work.
Types of Psychometric Test
Psychometric tests can be divided into several types:
Aptitude Tests – these measure your natural ability or 'aptitude' for certain activities; thus they assess your potential to learn rather than testing any specific previous skills or training and they give employers a chance to predict your future performance on the job. Aptitude tests can come in many forms, depending on the skills required in the job – for example, careers in IT, engineering or science may require more specialised aptitude tests. However, the most common forms are numerical and verbal or abstract reasoning tests. These are usually presented in a multiple-choice format, with definite correct and wrong answers and your work is strictly timed. Thus, to be successful, you need to work through the test as quickly and as accurately as possible. While they may sound frightening, aptitude tests can be very useful as self-assessment tools, so you have a better idea of your own abilities and how to maximise career opportunities.
Attainment Tests – these are designed to assess the skills and knowledge you already possess and what standards you may have achieved. An good example is a driving test or a typing test.
General Intelligence / Ability Tests – these focus more on measuring intelligence in the form of general problem-solving ability. They do not rely on any previous skills or knowledge but rather on your ability to solve problems using logical thinking. They can be verbal, numerical or logical-reasoning in form and also test your ability to identify mistakes accurately. Although they are similar and often confused with aptitude tests, they are distinctly different as they measure general skills you are already likely to possess rather than specific abilities relevant to a particular job.
Personality Questionnaire – these measure the other aspect of your work persona: your attitude, your motivation and your work style. Although there are no right or wrong answers, they are designed to assess your typical behaviour, preferred way of doing things and how you are likely to behave in various situations. Employers use them to help them find people with certain characteristics which may be particularly suitable for a certain job – for example, a sales role would ideally need someone who is sociable, persuasive and organised. Like aptitude tests, personality questionnaires can be very useful as self-assessment tools so you can work out your strengths and weaknesses and determine possible areas for development.

All tests can be administered via pen and paper or computer, although the latter is increasingly common in the modern workplace, particularly with the emphasis on computer literacy in all fields. Tests may be administered at a recruitment assessment centre, at the employer's premises and even online and some employers may set a specific score which you need to achieve in order to proceed with the application.

Remember, psychometric tests measure your natural ability so do not fear them like school tests. In fact, in many cases, it is not just about achieving the highest score as many tests measure multiple skills. You may also not be compared against other people sitting the test but against the standards set by the company. While personality tests cannot be practised (and honesty is the best policy there), it is possible to practise taking aptitude tests if you are worried and numerous academic institutions, recruitment agencies and even online sites will provide sample tests for practice.

You might also like...